A storage shelf is a flat horizontal plane which is used in a home, business, store, or elsewhere to hold items that are being displayed, stored, or offered for sale. It is raised off the ground and usually anchored/supported on its shorter length sides by brackets. Many types of storage shelves are available in the market.The powder coated storage shelf is the one you should never neglect. Here, this passage will introduce this kind of shelf for you.

What is Powder Coated Shelf
The powder coated shelf is one type of shelves that are manufactured using power coating process. Powder coating is a dry finishing process that has become extremely popular since its introduction in North America over in the 1960s. Representing over 15% of the total industrial finishing market, powder is used on a wide array of products. More and more companies specify powder coatings for a high-quality, durable finish, allowing for maximized production, improved efficiency, and simplified environmental compliance. Used as functional (protective) and decorative finishes, powder coatings are available in an almost limitless range of colors and textures, and technological advancements have resulted in excellent performance properties.
Powder coatings are based on polymer resin systems, combined with curatives, pigments, leveling agents, flow modifiers, and other additives. These ingredients are melt mixed, cooled, and ground into a uniform powder similar to baking flour. A process called electrostatic spray deposition (ESD) is typically used to achieve the application of the powder coating to a metal substrate. This application method uses a spray gun, which applies an electrostatic charge to the powder particles, which are then attracted to the grounded part. After application of the powder coating, the parts enter a curing oven where, with the addition of heat, the coating chemically reacts to produce long molecular chains, resulting in high cross-link density. These molecular chains are very resistant to breakdown.

Why choose powder coating for the production of storage shelf? Powder coating is a high-quality finish found on thousands of products people come in contact with each day. Powder coating protects the roughest, toughest machinery as well as the items people depend on daily. It provides a more durable finish than liquid paints can offer, while still providing an attractive finish. Powder coated products are more resistant to diminished coating quality as a result of impact, moisture, chemicals, ultraviolet light, and other extreme weather conditions. In turn, this reduces the risk of scratches, chipping, abrasions, corrosion, fading, and other wear issues. It's tough. It looks great. And it lasts a long, long time. In addition to being durable, powder coating is an attractive choice due to environmental advantages.

The Application Range of Powder Coated Shelf
The powder coated storage shelf is suitable for homes, companies, schools, warehouses and other places. The different materials and colors make this kind of shelf adaptable to different scenes and spaces. This kind of shelf is also a great option for garage storage as they allow for storage of a wide range of items. They can be used as freestanding units, anchored to the wall, or attached to the ceiling to utilize every available inch of storage space. The factory adopts assembly line production, which helps save time and labor and provide high-quality products quickly.
We have a complete types of storage shelves to meet the different needs of customers. Depending on the different demands, we can also provide customers with custom storage shelf that are more suitable for their market.

storage shelf Product Parameters
Model: QT6127 Powder Coated Shelf
Product Size(mm): 1800*900*450
Load Capacity(kg): 265
Steel Thickness(mm): 0.9
MDF Thickness (mm): 5
Certification: TUV/GS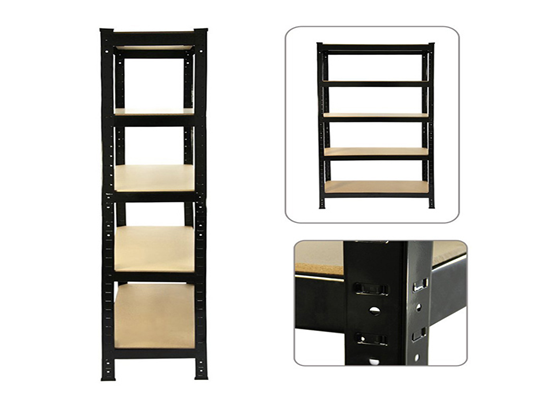 storage shelf Product Features

5 tier boltless racking shelf - This strong 5 tier boltless shelf is easy to assemble.
Heavy duty shelving - This powder coated storage shelf has strong load capacity of 265kg.
Quality finish - This storage shelf has high-quality powder coated steel frame.
Wooden platform - mm MDF boards are included.
Plastic spare parts - Its 8 plastic spare parts ensure that the floor will not be damaged.
Wide applications - This shelf is ideal for use in garage, warehouse, and commercial space.

Founded in 2001, Qingtai is a one-stop supplier of storage shelves. We are mainly engaged in manufacturing and sales of storage shelves and their supporting rubber products, plastic products, wood products, hardware products. We have a well-equipped production plant that covers an area of 15,000 square meters. We can produce high-quality storage shelves quickly. Our storage shelves are popular in both domestic markets and international markets such as Europe and North America. If you are interested in powder coated storage shelf or customized storage shelf, please feel free to contact us.