There are so many things to choose from when it comes to material handling equipment. Without looking at powered equipment, there are platform trucks, hand trolleys, dollies, service carts, pallet trucks, scissor lift tables, and U-boat carts available for you. All these devices are extremely useful and all have their applications, but which one is right for your needs? Material handling trolleys are good choices!
In fact, we find that many times some of the simplest pieces of material handling equipment can be the most useful. Hand trolley is among the easiest and most helpful types of equipment to use and it is suitable for a wide range of uses. Here is a bit about each of these types of equipment for you to consider for your needs.

The Advantages of Hand Trolley
1. Hand Trolleys Are Just as Versatile as Any High-Tech Purchase
Today, hand trolleys are characterized by their transformative capabilities. Trolleys that were once sold only in an upright configuration can now be converted into multiple models and can easily be turned into flatbeds or utility vehicles. This means that a single trolley can be used for up to three completely different purposes, achieving its versatility.
Business owners today love multi-functional devices just as they value versatile workers. The hand trolley meets this requirement, because it can not only be transported upright, but can cover as many bases as possible without any additional cost. The equipment can also be purchased to meet a variety of weight needs, from just 200 pounds to a hand trolley that can handle more than 1,000 pounds without succumbing to stress, wear and tear, or even worker error.

2. Hand Trolleys are Highly Economical, Even on a Tight Budget
Technology undoubtedly plays a role in the workplace, especially in commercial enterprises. Technology can be used to track everything from working hours to inventory, but it is not necessarily the only economic way to improve the way you work. In fact, custom trolley can have a profound impact on traditional warehouses or industrial enterprise facilities.
In the years after purchase, have you been looking for something that can really scream "value"? This is almost always the case with hand trucks. It is worth noting that many high-tech innovations of today's business owners are fleeting at best. Many products will become obsolete next month and will need to be replaced next year, which will greatly increase the burden on corporate employees. Over time, even electronic mobile devices will eventually need to be maintained, repaired and eventually replaced. In contrast, hand trolleys do not require these costs.
The hand trolley is extremely affordable and costs a fraction of the cost of electronic mobile devices or high-tech tools designed to increase productivity. Hand trolleys last long and don't need to be replaced. This means that business owners spend only a part of their money every day until they are heading for the day when they must change their trolley. The company's budget will be greatly appreciated.

The Application Range of Hand Trolley
Custom hand trolley can be used in various occasions and fields: a warehouse that needs to load and unload trucks, an office that needs to move around office supplies and computer equipment, a hospital that needs to bring delicate equipment to different areas of the building or a delivery service that needs to bring packages from the warehouse to the truck and then to the customer. All of these businesses need to move loads require the right material handling trolleys that can help make their operation more efficient.

hand trolley Product Parameters
Model: QT6063
Product Size(mm): 1000x500x900
Load Capacity(kg): 250
Weight(kg): 13
Material: Iron
Wheel: 4" Solid Wheel
Packing: 1/PC Carton
Certification: TUV/GS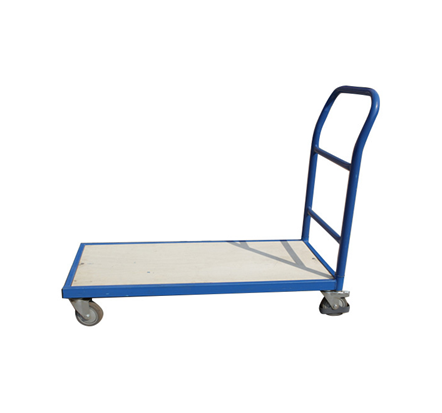 hand trolley Product Features
1. No complicated moving parts to adjust or to loose. Loading and unloading is simple and fast - reducing time, effort and risk of injury.
2. Made from premium quality aluminium, this equipment is light weight and extremely durable with a load capacity of 250 kg.
3. It features telescoping hand, retractable wheels and fold-up toe plate supporting collapsible design for easy carry and storage.
4. Telescopic hand allows users to adjust the height of the handle that suits their needs. Loads are secured by an elasticized card.

Qingtai is a professional and reliable custom trolley manufacturer. We are known for manufacturing and supplying a wide range of high-quality material handling trolleys. Our material handling trolleys cater to the requirements of industries like sugar industry, automotive parts and various other industries. Customized material handling trolleys are also available for customers who have special requirements. We have almost 18 years of experience in helping customers find the correct piece of material handling equipment for the specific needs and applications. If you need hand trolley or customized service, feel free to contact us.