Warehouse storage shelf is an important part of warehouse infrastructure and can hinder or accelerate warehouse operations. With proper warehouse storage racks, warehouse managers can maximize space and optimize warehouse organization to increase efficiency and streamline the picking process. Warehouse layout plays an important role in warehouse shelves, because aisle width, docking location, transportation area, and other warehouse components can affect warehouse shelf options.

What Can Warehouse Racking Systems Bring?


A more organized warehouse. Warehouse racking systems make the warehouse more organized. They were created to make it easy for warehouse owners and workers to manage or maintain the warehouse. Maintaining or managing a warehouse can be very difficult, especially if the products are completely disrupted. In this case, warehouse storage racks can help warehouse owners and workers have a more organized warehouse, reducing or even eliminating the stress of maintaining the warehouse.


A safer warehouse for products and workers. A warehouse shelf system makes a warehouse organized and an organized warehouse is a safer warehouse as it means there is no mess that can threaten the safety of the workers while working. Plus, with these systems, the products or goods are also kept safe and protected as they are placed inside their proper places.


Time and effort savings. Maintaining a warehouse can be time consuming, especially if one wants to manually track all items and manually remove items from other containers and retrieve them back. However, if one has a warehouse storage system, he or she can save time and effort because the system makes it easier to track items, store them, or remove them from containers.


Space-savings. Since the warehouse racking systems can organize a warehouse, they also save space because these systems allow items above the top to be stacked instead of crowding the warehouse with all the items packed in a pile.

Increased Profit. The biggest benefit of the pallet racking system is increased profits. With the right system, warehouse owners will be able to:
-Increase the amount of storage within your specified square feet, reducing the rent required.
-Maintain better tracking of inventory control systems, eliminating lost or leftover pallets.
-Make your warehouse more organized and reduce the time your workers spend from pallet tray A to pallet tray B.
-A storage rack system with the correct layout will ultimately increase productivity and product mobility, reducing costs and increasing profits.

What Are The Common Types of Warehouse Storage System?
There are several types of warehouse racking systems, also known as pallet racks or material handling systems. Wooden, metal or plastic pallets or skids are combined with larger shelving systems, which consist of shelves at all levels. The decorative base has different widths and can support objects placed on the shelf.


1. Storage cabinets. These cabinets are used to store small and large items, depending on the size of the cabinets..
2. Pallet storage system. When it comes to storing items, this works like a cabinet. The only difference is that the items are not stored in a cabinet, but in a pallet and then stacked on a shelf to avoid clutter.
3. Mezzanine storage system. This type of storage system adds more space to the warehouse, allowing items to be stacked high.
4. Automated system. This refers to any type of automated or self-operating storage device in a warehouse.

Warehouse Racking Requirements
The type of warehouse racking that best suits warehouses varies by need, and there are a few factors to consider that help determine the best option for your company:
Cost
Available floor space
Ceiling height
Pallet type and size
The number of SKUs stored in each rack
Frequency of pallet access
Product shelf life
FIFO or LIFO product needs
Number of pallets to be stored
Fork truck type and lift height

Are You Looking for A Practical Warehouse Storage Rack?
If you are looking for practical warehouse storage racks, you can take this 180*90*40 5 Layers Galvanized Goods Shelf into consideration. Made using high-quality steel and MDF, it is sturdy, stable and durable. It can be used for a long time. With 5 layers design, it has a large storage capacity. It's an ideal storage solution for industrial and commercial use.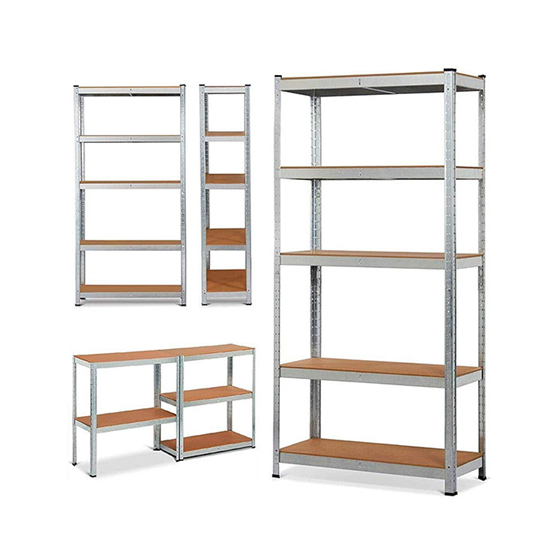 Qingtai QT6128 Galvanized Boltless Warehouse Shelf With 5 Layers

Warehouse Storage Rack Product Parameters
Model: QT6128 Galvanized Shelf
Product Size(mm): 1800*900*400
Load Capacity(kg): 175
Steel Thickness(mm): 0.63
MDF Thickness (mm): 4

Warehouse Storage Rack Product Features
-Heavy duty design in solid structure with high capacity up to 175kg per tier.
-Made of galvanized frame and MDF board.
-Coated with galvanized powder paint for ensued durability.
-Features with 5 tier racks with ample space for more storage.
-Features with no bolt, no nut design for easy assemble and disassemble.
-With concise design, it can coordinate with any style of decoration.

The warehouse storage shelf is an ideal solution for transforming a warehouse, storage area or distribution center into an efficient, flexible and secure workspace. At Qingtai, all types of racking and shelving systems are available to maximize the use of storage space. Whether you need a simple bolt-free shelf, a complex shelf system, or anything in between, Qingtai's warehouse experts can create a solution based on your needs.